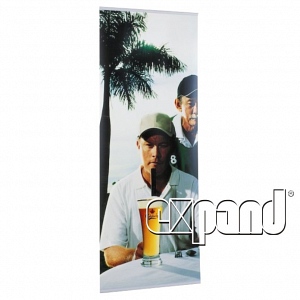 We recommend to buy:
Expand BannerStand

Expand BannerStand one of the most effective yet flexible methods of portable presentation for customer communication. Price: 2990 CZK plus VAT/unit.

| | |
| --- | --- |
| Width: | 100 cm |
| Height: | 200 cm |
| Weight: | 3350 g |

The Expand BannerStand is one of the most popular and simplest marketing tools you can use to support presentations, specially designed for companies which often need to update information, possible thanks to the easily replaced graphics banner. Expand BannerStand is the optimal solution for creating an effective background to your business meetings. Thanks to its large flexibility ? the stand is available in many sizes ? it can be used in every situation and at any location. Its compact structure and small carrier bag make it ideal for carrying on journeys. The unique magnetic strip allows you to connect a number of Expand BannerStands beside each other, creating a large display area with no visible connectors. Thanks to its clever design, the Expand BannerStand can be assembled in minimum time.